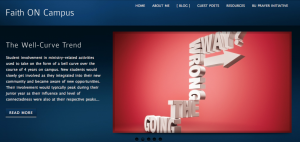 Faith on Campus is a great site for college ministers. Guy Chmieleski, a univeristy minister at Belmont University blogs regularly about strategies and issues related to college ministry.
He's hosting a blogathon on his site next Tuesday through Friday similar to the Re-Think Blogference Format.
Here's what Guy says about it:
"Over the course of 3 days [Aug. 3-5] we'll have the chance to hear from a number of professionals in the college and campus ministry world – and others who have particular interest and/or insight… into our work with college students – in the form blog posts and the dialog that ensues."
I will be guest posting on 4000 Ways to Maximize the First Four Weeks on Campus. I'm excited to share some of Campus Crusade's best practices on winning and engaging new students and hope you will join in and share your thoughts.
Bookmark this link for Tuesday to read and comment

Click here to take a look at the Facebook Group Page (including a list of all the authors).