Leading redemptive change in your ministry requires specific knowledge of the types of people that form the whole.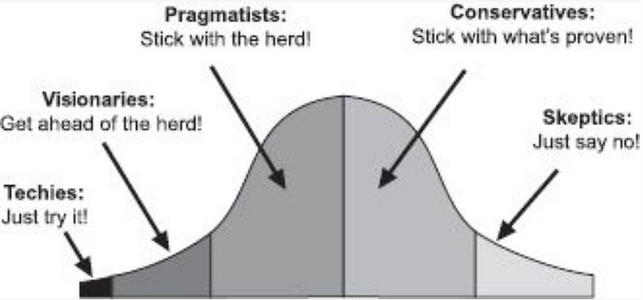 This chart from Dealing with Darwin by Geoffrey Moore illustrates five kinds of people: Techies, Visionaries, Pragmatists, Conservatives, and Skeptics.
A few key questions related to applying this chart to your ministry:
Which one of the five best describes you? The majority of your ministry will be comprised of people like you. If you are a pragmatist, conservative, or skeptic you will need to empower a techie or visionary to help you shape the future. If you are a techie or visionary you will need a pragmatist, conservative, or skeptic to help you maintain the present.
What percentage (rough estimate) does each group represent in your ministry? How does this affect decision making and the tone of your culture?
Do you or any of your leaders view one group as better or worse than the others? What are some specific benefits each group brings to your ministry's health?
Just try it! Get ahead of the herd!