The non-profit of the (near) future will not resemble today's (yesterday's). I observe six shifts non-profits must leverage to forge a sustainable path of long-term growth.
1.  A Shift from Macro-Donations to Micro-Donations
The mechanisms for donating money are changing along with people's preferences and opportunities. 20 years ago it was cash or check. Donations can now be sent via iTunes, Paypal, Kickstarter, and Square. Giving can happen as a result of a tweet, blog post, Facebook update, in addition to a direct mail letter.

The 2012 Millenial Impact report reveals this shift. Although 70% of respondents prefer to give online, most non-profits do not allocate their fund development efforts around digital, preferring instead to add it as a module or tack-on to their existing and often out-dated efforts.
2.  A Shift from Transactions to Interactions
More people expect a relationship with the person or organization to which they give, not just a transaction. Giving is not an obligation, it's an opportunity. The practice of most non-profits to send a receipt for a donation highlights this reality. As a donor would you prefer a receipt over a highly personalized thank-you? What if instead of a receipt a donor received an @ reply as well as a receipt? How might that change that person's attitude toward the non-profit?

Blackbaud's Social Giving Report revealed 50% of those surveyed said their primary motivating for making a donation was because "a friend asked me." Non-profits that minimize the role of the organization and maximize peer-to-peer fundraising will thrive in the future.
3.  A Shift from Contacts to Users
The people that donated and volunteered connected to the organizational infrastructure by sharing their contact information. Non-profits of the future will pull the information that their donors and volunteers are already sharing online into a software tool that will fuel highly personalized and timely communications.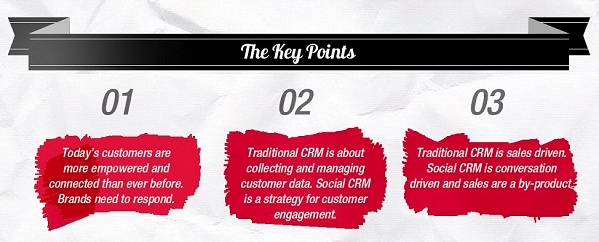 Any non-profit serious about making and building meaningful relationships with their volunteers and donors will use a Social CRM to centralize information, increase access to that information among employees, and manage the vast amount of social data being shared.
See E-Consultancy's Infographic on Traditional CRM vs. Social CRM for more information.
4.  A Shift from Long-Term to Short-Term Partnerships
Projects and ventures have measurable goals and tangible outcomes. It also allows the donor to experience a higher degree of satisfaction funding a project that has immediate results. While long-term partnerships will be as important as ever, they cannot be the entry point for cultivating new donors.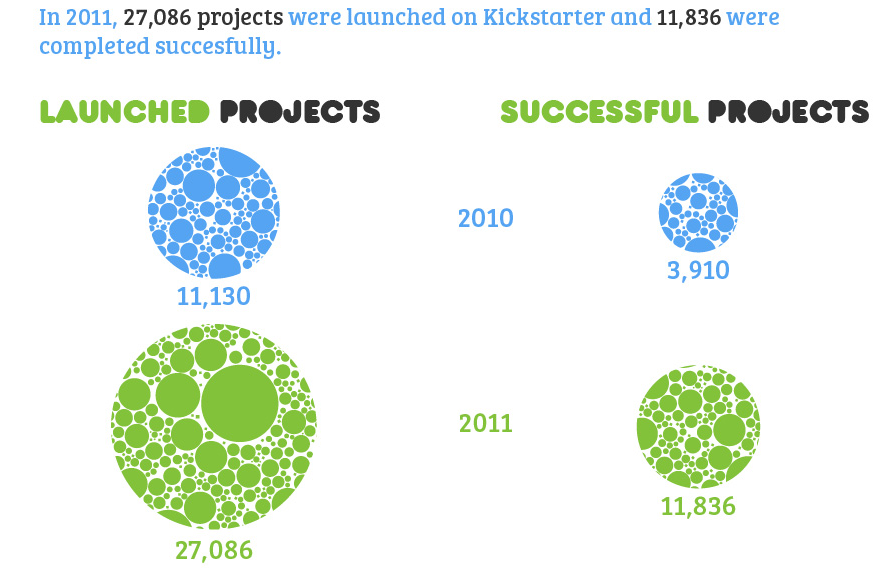 Kickstarter has seen significant growth in both the number of projects launched and the number of projects completed between 2010 and 2011, according to a recent infographic featured in Mashable. 
5.  A Shift from Funding Generalists to Financing Specialists
"Since 1960, services have dominated US employment. Today's services sector makes up about 80% of the US economy. Services are integrated into everything we buy and use. Nine of every ten companies with fewer than 20 employees are in services."–Dave Gray, Everything is a Service
As jobs become increasingly specialized our culture will naturally support and value specialized services. Non-profits that can offer customized experiences will raise more money and empower more volunteers than those that maintain a one-size fits all approach.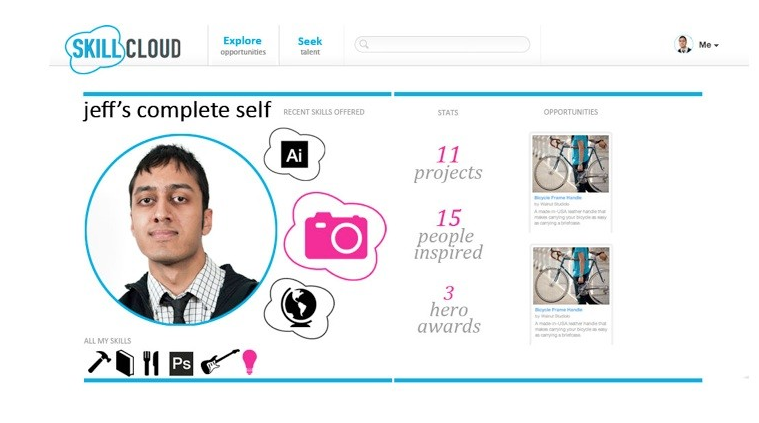 Consider Skillcloud, a digital application conceived during Frog and LRN's Reinvent Business Hackathon, which is "a social network-like platform that allows employees to broadcast all their interests, abilities, and hobbies outside of the office to their workplace. Once companies know that there is a passionate group of musicians or artists in their midst, they could build teams that generate fresh ideas."–source
Non-profits have the potential to build or leverage digital applications to understand their volunteers or donor's skills and connect them with people or opportunities that have a need.
6.  A Shift from Hierarchical Organizations to Widely Distributed Networks
Digital media provides unprecedented access to experts, thought-leaders, and like-minded individuals from around the world. The non-profits that utilize digital media to build and grow the informal but powerful relational networks that people use everyday to work and play will thrive in this new era.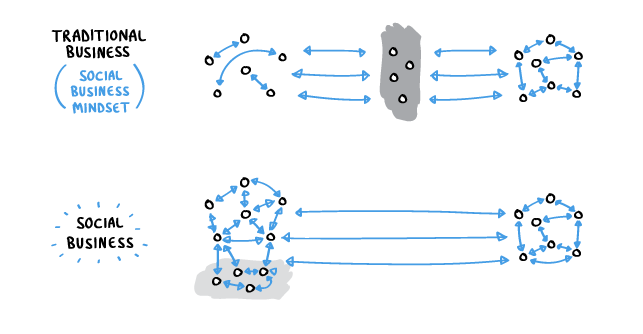 "A social business creates intimacy at scale by democratising roles and responsibilities and encouraging employees to build their own brand."–Dachis Group, The Evolution of Business
Many non-profits have built vast networks from their fundraising efforts and by recruiting volunteers.  Digital tools offer the opportunity to coordinate and unite these networks in ways that will increase their capacity to execute their mission.