Changing a large organization's culture often takes a large and focused push to drive adoption of a new technology or behavior.
I found this idea of Immerse and Disperse extremely helpful when thinking about how to tactically drive an organization forward in digital competency.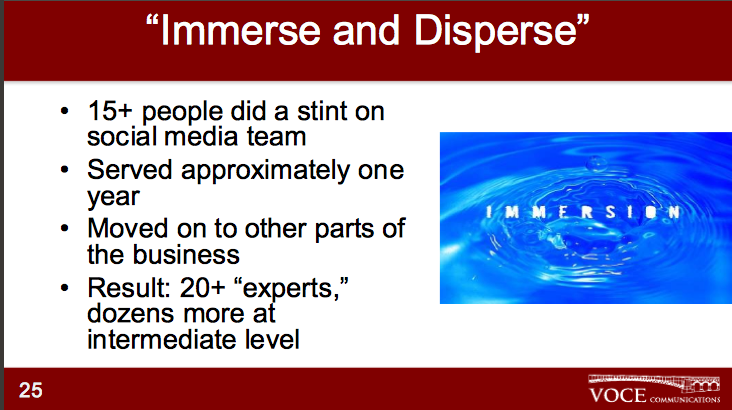 Immerse and Disperse:
15+ people do a stint on a social media team
Served for approximately one year.
Moved on to another part of the business.
Result: 20+ experts, dozens more at intermediate level. T
Every organization or part of an organization reaches a plateau as it seeks to adopt social media. Either "the expert" reaches his/her level of influence, or the fatigue of staff amidst constantly changing online tools sets in and halts change. "Immerse and Disperse" can be a great strategy for moving beyond the plateau.
Large non-profits often have distributed teams that each possess their own highly customized systems for communicating and sharing resources online. Immerse and Disperse allows an opportunity to align these disparate practices and harness the best practices from a wide range of leaders.
 View the entire slideshare presentation here.