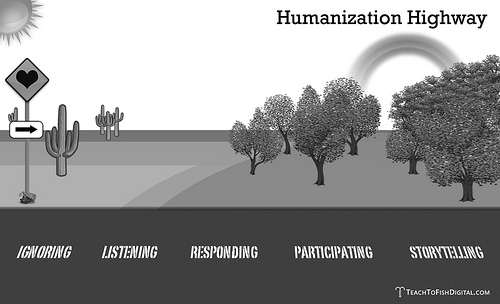 Found this chart from Katya's Non-Profit Marketing Blog. This certainly illustrates the process many individuals and ministries go through as they integrate social media into their existing strategies.
One common error in the initial adoption of social media is to go from Ignoring to Blasting, instead of Ignoring to Listening as the chart illustrates. Blasting would be using a new media as a one way communication channel to inform your constituents about you. Most new media channels work best when there is a two way conversation and the content consistents of personal messages and information that your constituents perceive to be valuable.
A Few Ways to Listen:
Facebook Profiles: What are people that you are trying to reach saying and sharing on their profiles? Even looking at three to four profiles will significantly improve your awareness of your constituents.
Twitter Search: If you prefer a broader sample of what people are saying about you or a topic that's relevant to your ministry use Twitter search.
A Few Ways to Respond
Likes and Comments on Facebook: Rather than post updates in response to various events or activities, like and comment on existing photos and status updates from your constituents. This not only shows that you are paying attention to what they are saying, but are leveraging their social network to distribute information.
@ replies and direct messages on Twitter: Same principle as with Facebook; these are much more personal than an update and have the ability to influence your constituents much more powerfully than an update from you about you.
If you want to see a dramatic increase in your social media efforts then doing more Listening and Responding are the two best places to start.
How about you? Where are you strong/weak?