Willow Creek hosted a webinar with Charlene Li, author of Groundswell and Open Leadership on how church leaders can use social media more effectively.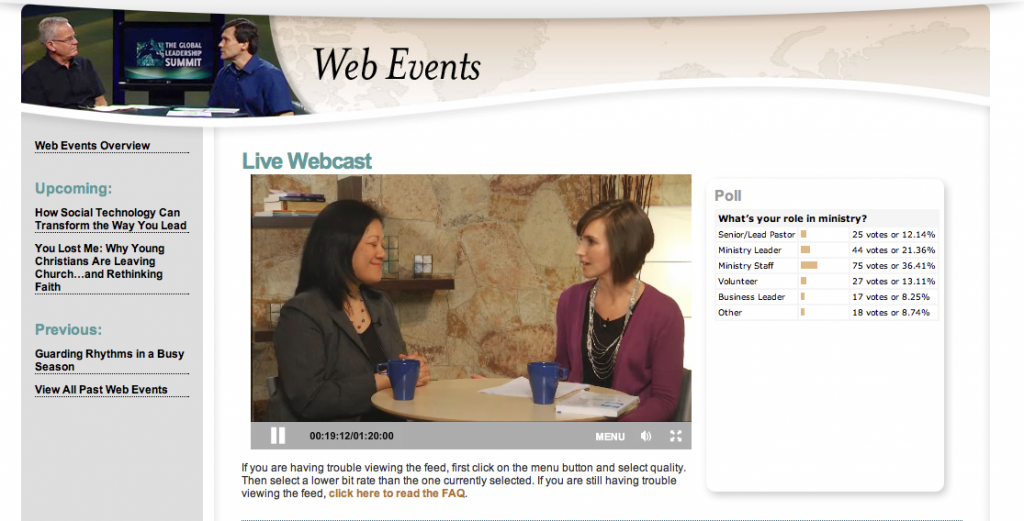 Li shared profound insight into the power of social media:
"If your voice is absent (from social media), then (it communicates to those who are) that this is not a relationship worth having."
"If you are in a relationship then you are not in control…to think that you are in control of the relationships in your church is a fallacy." ***by far my favorite quote
"Twitter is not a technology but a conversation, and it's happening with or without you"
"If you are not part of the conversation, you have no influence."
She focused her responses on how technology enhances and increases the transparency in relationships. I enjoyed her thoughts on how social media reveals the true lack of control anyone has over a conversation. Much of ministry in the last 50 years has minimized the voice of the many in favor of the few; social media has completely turned this paradigm on its head.
"Handshakes are Precious"
Li literally shook hands with the interviewer to illustrate the power of a personal connection. She clearly showed how many online actions feel the same as a handshake to people, and the potential of interacting with people online to create and enhance relationships.
Specifically for Pastors and Ministry Leaders:
"If you see something that's interesting I sure would like to know about."
"Take me on that journey of discovery as you prepare for your sermon."
"Can you produce a 2 min video of something that just hit you, if you don't like writing?"
Pastors and ministry leaders can easily apply these suggestions. The first quote shows that "the audience" (your ministry) now has expectations to hear from you not just on Sunday or the time and day you meet in person, but in between. The second quote was powerful–to use social media to provide context as one prepares for a sermon. The third tip was fantastic–I've run into so many ministry leaders who because of their preference for speaking struggle to update Facebook, a blog, or Twitter. Producing a short video even once a week would dramatically increase people's engagement and provide extended opportunities to connect.
To stay updated on future Willow Creek webinars click here.