"5% of U.S. adults now scan 2D bar codes – including QR codes – with their smartphones, up from 1% in 2010."–source
I'm one of those people that think QR codes are cool and am willing to download an app that scans and reads them (although the "photo" search feature on the standard Google app works the best for me).
As much as I enjoy them I have yet to see them used effectively as a tool to connect and inform people, but seem most valuable as a signal to early adopters and mobile technology fans that you value emerging mobile technology. The responses on Twitter revealed others had similar and strong opinions about QR Codes:



The intensity of the responses on Twitter surprised me most; it seems that although QR codes are an emerging and niche technology those that do know about them have a strong opinion.
What people are really saying when the say you should use a QR code:
Mobile technology is fascinating and interesting.
Demonstrate your appreciation and affinity for emerging technology.
Location based marketing/interaction has potential.
I'm not against using QR codes at this point but it's important to understand the primary value they will engender.  They are primarily a marketing/advertising tool and secondarily a utility. As long as you know that thousands of people will NOT scan you code but that some people will think it's really cool that you have one, you will be in good shape.
"As previous studies have found, bar code users are typically younger, affluent adults. Of the recent users of bar codes in the study, 66% were between 23 and 45 years old. The largest income category, with 39% of respondents, was $100,000+."–source
This tweet says it all: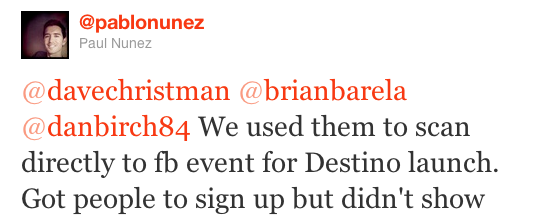 Have you had a similar or different experience using QR codes? What has been the primary value you have seen from integrating them?