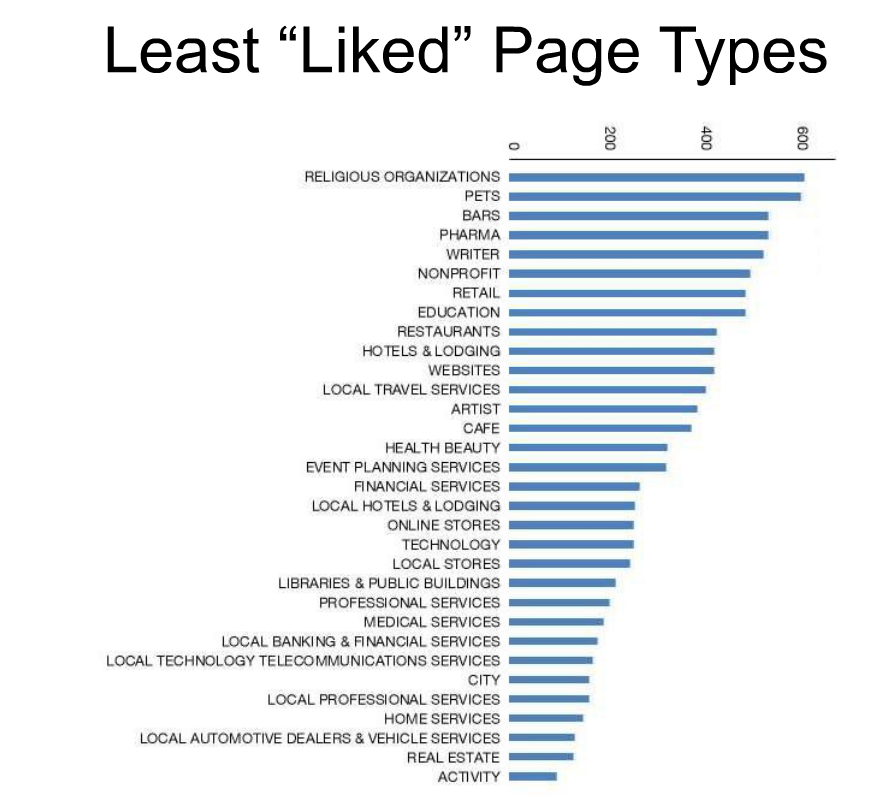 Everyone is on Facebook, but most people do not like pages with religious/spiritual content.
This is a slide from Dan Zarrella's Science of Facebook Marketing presentation. His presentation was based on data collected from Facebook users.
It's interesting to me that Religious Organizations and Pets are significantly more disliked than most other pages. This slide is slightly confusing–Religious Organizations are at the top of the page, meaning they are more liked than the others below it, but still significantly less liked than the rest of the types of pages on Facebook (thanks Jodi for the correction!). To get the full context you will need to look at the slide before this one on the original presentation.
I still believe the best way to share religious/spiritual content is through one's personal profile–linking over to a Facebook page or out to a ministry blog or website.
Every ministry should set up and actively use a facebook page. The data from this slide and the rest of the presentation indicates that much more work is required to see these pages grow and thrive with an active community.
Quick tip: Pages that mention "ice cream" average a significantly larger number of fans than any other page (slide 27). Think through that before your next post lol!
Click here to view his presentation on Slideshare.