Short, image-driven posts with clear calls to action perform extremely well on Facebook.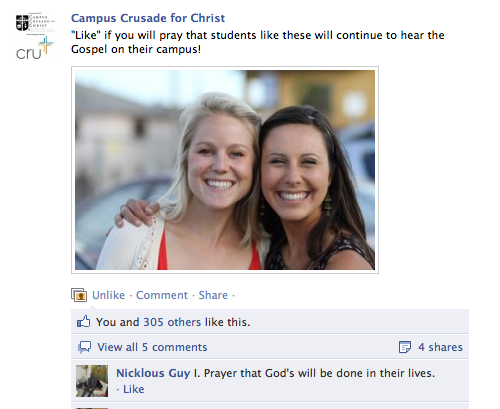 I uploaded this Facebook update to Campus Crusade's fan page and within 10 minutes received 300 likes. Even though the page has over 60,000 fans garnering that many likes in such a short amount of time is rare.
 A few other factors contributed to the high engagement:
A high resolution: if photo has a low resolution than it will be harder to see in their newsfeed.
CLOSE up: many photos shared on Facebook are taken from a distance, and when the update shows up on people's newsfeed it limits the ease of quickly understanding what they picture is about.
Bright, well-lit background: self-explanatory, but often overlooked.
3 Key Statistics of this Post Compared to Others on the Page:
Reached 10,264 people according to Facebook Insights. The previous 5 posts reached 6,300, 6,300, 7,400, 8,013, and 6,900.
Had 853 people "Talking about this:" The previous 5 posts had 46, 39, 73, 140, 52. Facebook describes what this statistic means: "The number of unique people who have created a story about your Page from [one week]. These stories include liking your Page, posting to your Page's wall, liking, commenting on or sharing one of your Page's Posts, answering a Question you posted, RVSPing to on of your events, mentioning your Page, phototagging your Page, checking in at your Place or recommending your Place."
The update finished with 844 likes, 11 comments, and 12 shares.
Hope this encourages and guides you to more engaging updates!