I've started using Evernote to remember the various sites I visit and Twitter favorites to archive links that I want to read or save for a later time.
Evernote for Web Bookmarks
Evernote has a Firefox add-on and a Chrome extension that make it super easy to save both the link and/or the entire page content. I save pages primarily to be able to share them later with people that ask me questions about various web or ministry problems. I've found that often times my opinion is less valuable to someone than a link, and if my goal is helping people make redemptive changes in their ministries then whatever gets them to take that next step is fine with me.
Twitter Favorites For Link Archiving
I notice that few people use the favorite feature on Twitter. It really is a shame since it can change the way you use Twitter and expand it's value significantly. The most frequent complaint/obstacle with Twitter I hear from others is sorting through the vast amount of data that is shared. What I like to do is go through my Twitter feed quickly, and favorite any Tweets that have either a good idea or an interesting link. The next time I check Twitter, instead of exploring new content, I will dig into my favorites, open the links, and read what people are saying. It provides a nice balance to the onslaught of data and helps me refine who I "really" follow.
By using the favorite feature it will also help create a quality Twitter list. Often times people create lists based on their company or broad theme, but the people on the list will actually share information that is all over the place. By building a Twitter list out of your favorite tweets you will actually create a list that YOU find interesting.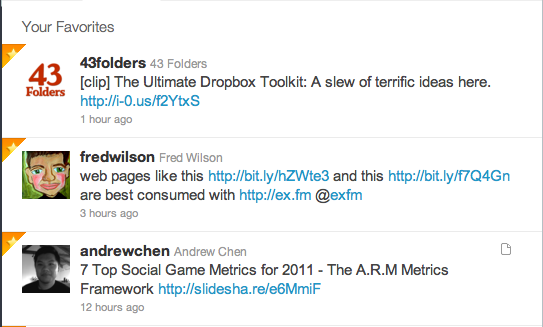 How about YOU?
How or where do you store interesting data that you discover online?