Personal Development that's provided by your ministry or organization offers the least resistance but often short circuits what's actually needed to become more effective as a ministry leader.
a simple chart: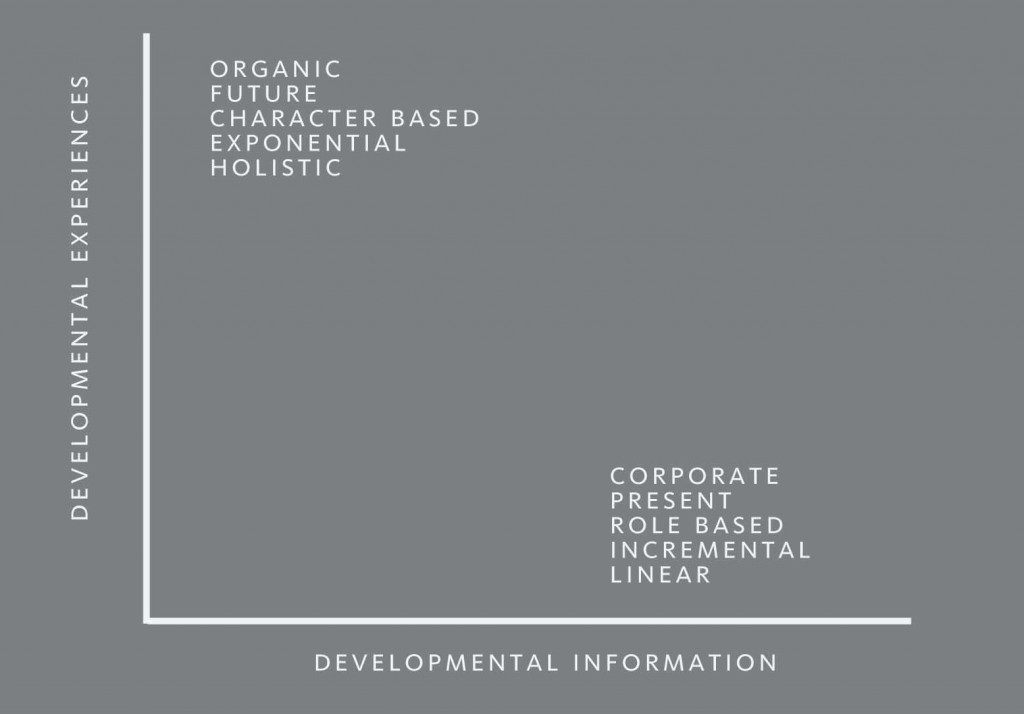 On the Y-axis is developmental experiences, which I define as experiences that increase both your skill and capacity in some leadership related area–giving speeches to large groups of people, working through conflict with someone, training another person are a few examples.
On the X-axis is developmental information, which over time when applied correctly and appropriately will increase skill and capacity–seminary classes and informational seminars are two examples.
Although I value developmental experiences more than information I do not think experiences are better than information. I do believe many ministry leaders miss out on the fruit of intentionally facilitating developmental experiences to enhance their effectiveness. It seems often that these leaders expect the fruit of developmental experiences from developmental information–it just doesn't work that way.
Here are some ways I have found to avoid leaning too heavily on developmental information:
Take on short-term roles OUTSIDE of your daily/regular ministry context: giving leadership to a conference, or leading a seminar, or hosting your own webinar on a topic in which you excel all provide developmental experiences that will keep you sharp and growing.
Consider how God wants to use the people on your team to expand your leadership capacity. That person who thinks differently than you at almost every turn is not just annoying but actually part of God's sovereign and loving process of development. It's not about BECOMING what you are weak in but internalizing the spiritual fruit to love and lead those who are different than you well.
Go to a conference OUTSIDE of your ministry context: similar to the first, but a conference will not only expose you to developmental information that is different than what you are used to hearing (you'll realize your organization doesn't know everything), but will surround you with people who see the world similarly yet different. It's money well spent to reap these benefits.
Any tips on how to avoid getting stuck developmentally?